It seems like Blackamoors are everywhere these days.
They come in all shapes but only one color.
This one is on Michelle Nussbaumer's blog. $2800.
Four Blackamoors (two shown) guard the corners at Hutton Wilkinson's place.
My Blackamoor pendant by Corletto that I bought on Etsy. $170.
Important (that always cracks me up) Venetian Blackamoor Mirror at Sotheby's. $321,548.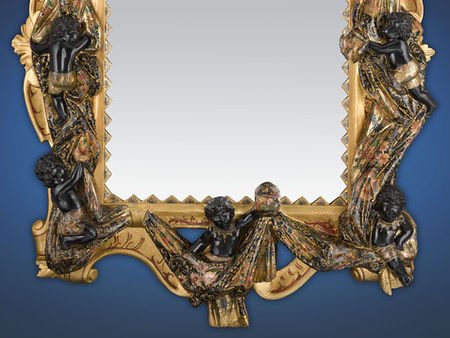 Blackamoor table at Pariscope. $3,600.
Blackamoor sconces at Dragonette. $9,500.
And MY fancy little blackamoors that I bought last year for a song.
I think they are Venetian polychrome blackamoors. It looks like they used to be lamps.
I tried to have them rewired but the old wires were PLASTERED IN! AHHHHH!
So, I just screwed some brass candle holders in place instead.
The brass candle holders aren't the answer. I'm still looking.
These fancy pants deserve something better, don't ya think?