When I was in Santa Barbara I stopped by
Rooms & Gardens
. The look is very appropriate for Southern California. The focus is on dark walnut and ebonized woods, light slipcovers and ethnic accents. I love it.
This chair in the window is covered in
Peter Dunham's
Shanghai in Imperial.
John Robshaw
bedding.
Pillows made from vintage Saris and blue and white lamps spruced up with raffia shades.
It makes me want to throw on a Sari and do this.
Simple glass hurricanes, mercury glass compotes and metal Indian trays...
...which would be really lovely to serve tea on...like this...cause this is how I entertain these days...by the seat of my PANTS.
Loved this cute little spindle desk chair.
The whole store is like throwing a white tunic and a turquoise and coral necklace on over a deep dark tan.
Speaking of turquoise and coral and tunics and deep dark tans...
Great vintage papier mache wastebasket and striped dhurrie.
Loved the shell planters.
Don't look at me like that...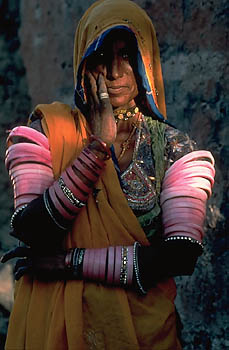 ...because I STILL like ceramic stools.
I also like trays because they unify random items. This scalloped wicker one is great.
Also, I loved these simple but beautiful tabletop items...mercury glass votives, Mexican glass goblets, blue and white dishes and ticking napkins.
Take a trip and check it out.
Note: All photos of India via
Steve McCurry's website
.